Donner Summit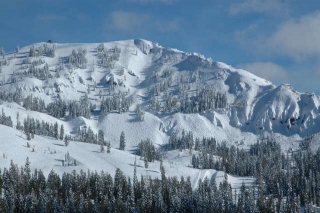 Location:  Norden CA is west of Truckee, about 8 miles from the center of town.  20 miles from Squaw /  Alpine; 16 miles from Northstar; 53 miles from Heavenly.
Donner summit provides breathtaking mountain peaks, high sierra lakes and rivers to renew the senses and clear the mind. The winter months bring lots of snow so homeowners in this area should appreciate the joy, yet realize the difficulty, of a heavy snow storm!
Subdivisions of Donner Summit include:
Soda Springs
Norden
Serene Lakes
Kingvale
Sugar Bowl
Donner Ski Ranch
Cisco Grove
Boreal Ridge
Plavada
Restaurants:
Rainbow Lodge
Rainbow Rd. Off I-80
530-426-3661
The Summit
22002 Donner Pass Rd.
Soda Springs, CA
530-426-3904
Recreation:
Being at the center of some of the best snow skiing in the Sierra, makes Donner Summit an easy vacation destination less than a half hour from: Squaw Valley, Alpine Meadows, Northstar, Sugar Bowl, Donner Ski Ranch, Tahoe Donner, Boreal, and Soda Springs; in addition to the above, Royal Gorge and the Donner Memorial State Park have Cross Country and Nordic Ski trails.
For the more adventuresome: hiking in Lakeview Canyon (South side of the Lake) is very popular; take a tour with a Ranger at the State Park; visit the Indian "Petroglyphs" near Rainbow Bridge, or climb a rock near the Summit, there are several climbs from moderate to extremely challanging.
Ski Areas:
Sugar Bowl
Soda Springs/Norden Exit I-80
(530)426-9000
Soda Springs Ski & Snow Tubing Area
Donner Pass Rd
Soda Springs, CA
(530)426-3901
Donner Ski Ranch
19320 Donner Pass Rd.
Norden, CA
(530)426-3635
Royal Gorge (x-country)
Old Highway 40
Soda Springs, CA
(530)426-3871
Points of Interest:
Auburn Ski Club Western Skisport Museum
19865 Boreal Ridge Rd.
Soda Springs, CA
530-426-3313