When you put your Lake Tahoe home up for sale, one of the best ways to determine the asking price is to look at comparable sales. There's rarely a perfect apples-to-apples comparison, so a pricing decision often relies on comparisons to several recent sales in the area. Here are five pieces of criteria to look for in a sales comparison.
Location: Homes in the same neighborhood typically follow the same market trends. Comparing your Tahoe home to another in the same neighborhood is a good start, but comparing it to homes on the same street or block is even better.
Date of sale: It varies by location, especially in Lake Tahoe, but housing markets can see a ton of fluctuation in a short time period. It's best to use the most recent sales data available.
Home build: Look for homes with similar architectural styles, numbers of bathrooms and bedrooms, square footage, and other basics. The Lake Tahoe has a lot of older homes and new builds, so this is very important.
Features and upgrades: Remodeled bathrooms and kitchens can raise a home's price, and so can less flashy upgrades like a new roof or upgraded heating and cooling system. Be sure to look for similar bells and whistles in other Tahoe properties your putting in comparison with yours.
Sale types: Homes that are sold as short sales or foreclosures are often in distress or sold at a lower price than they'd receive from a more typical sale. These homes are not as useful for comparisons.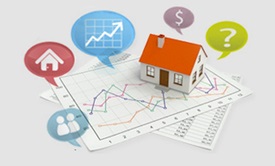 The most accurate way to price your home would be to have a real estate agent create a Comparative Market Analysis (CMA) for you. There will get the comparable properties together and break down the price difference between each one and yours. We know that area, which is very valuable in Lake Tahoe, every home here is very unique and we make sure that we take every special piece of your property into consideration.
Here at Century 21 Tahoe North Real Estate strive to get you the most bang for your buck. We would be happy to discuss your Tahoe property with you, put together a comparative market analysis, and give you our thoughts on the current market value of the property. We can do this for you in one of two ways:
The first being an exterior evaluation, where we'll take a quick stop by (with your permission of course), and look at the exterior of the property, and the setting. While doing so, you can give us an idea of interior finishes, condition, and any recent improvements you've made to the property or other features you think we should take into consideration. After receiving your insight, we will put together the report, but we do have to leave a little bit larger range of value since we haven't personally seen the interior. Any interior photos to share with us are always helpful.
The second option would be to have us stop by and take a peek inside. This gives us the opportunity to provide you with the most accurate evaluation. We're happy to set up a time to meet with you, or if you feel comfortable, you can let us know if there's a point of access you'd allow us to use to view the interior of the property. Of course, there's no cost or obligation WHAT SO EVER, for us providing this opinion of value to you.
If you are interested in having us do this for your Lake Tahoe home, please contact Kelly Smith and his knowledgeable team by phone or email.
(530) 546-8224
kel@ltol.com
To see listed properties, please visit our website here:
https://www.realestate-laketahoe.com/homes-for-sale-featured/
To see recently sold properties, please visit this page of our website here:
https://www.realestate-laketahoe.com/listings/solds
Follow us on Social Media: